Receive Award Notice
You'll receive your award notice, listing the types of aid you are eligible to receive, by letter or email at your UMKC email address. You must then review and accept your aid package.
Log in to Pathway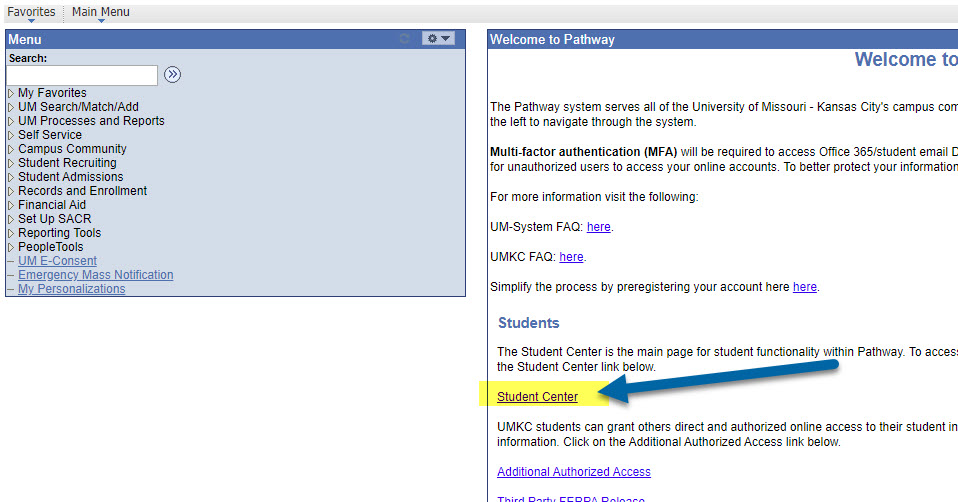 Select Accept/Decline Awards.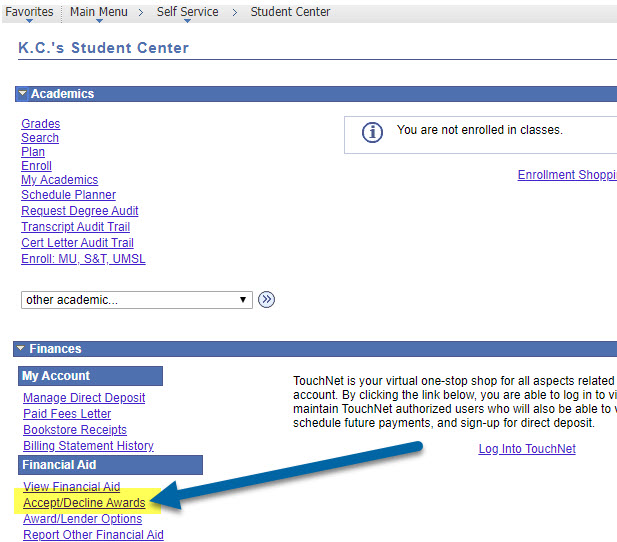 Select the Aid Year you wish to view. 2022 represents Fall 2021, Spring 2022, and Summer 2022.

Review and Accept Your Awards
Review

 

each of your awards, and refer to this page for information about the awards that you have been offered and important requirements and policies. Select any award to read the details.
Read

 

the Important Messages section at the bottom of your award notice. Also, be sure to read the

 

Consumer Information

 

by selecting the link at the bottom of the page.
Accept or Decline

 

each type of aid you have been offered. Mark the appropriate checkbox after the award. If you decline a loan, you can contact us to request that the loan be reactivated at any time during the first three months of the semester.
Adjust

 the amount of 

any loan by reducing it in the Accept box. The amount accepted will automatically be split between the Fall and Spring semesters. You must check the Accept box in order to adjust the award. You may decline any portion of your loan offer without affecting the other aid you are accepting.


If you are awarded both a Subsidized and Unsubsidized Direct Loan, you must accept your full Subsidized Loan before you can receive the Unsubsidized Loan.
Please

 

contact us

 

if you would like to reduce your Federal Work-Study award.

Submit

 

your award notice by selecting Submit.

 Your aid will not be processed until you have submitted your financial aid offer.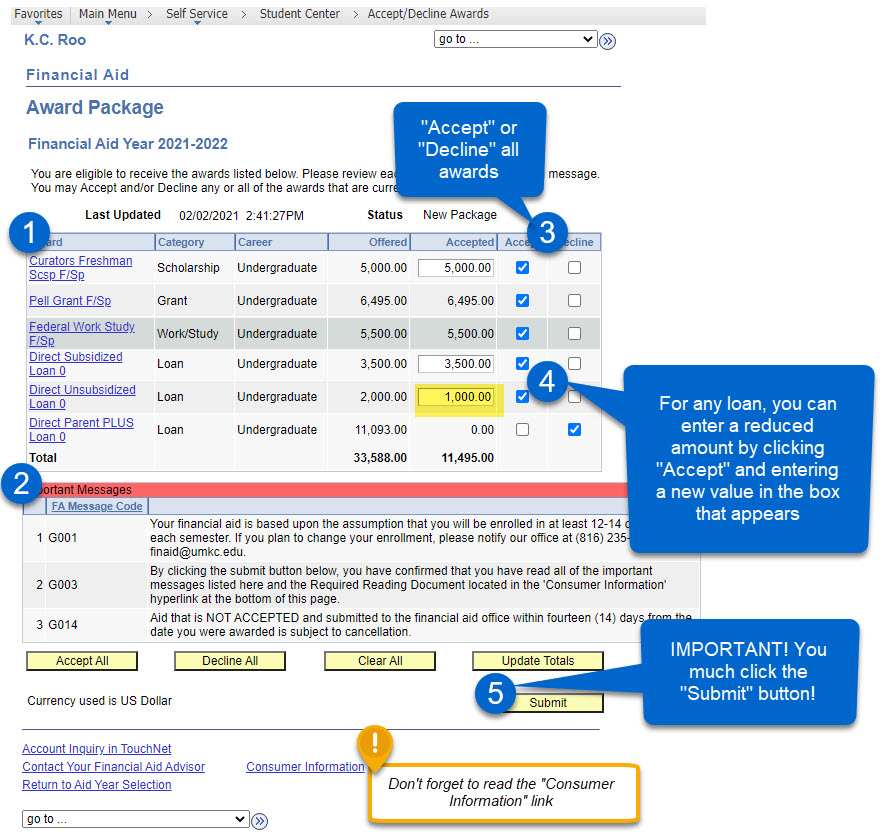 Learn more about accepting your aid (PDF)  
What's Next
Respond to requests for information
Respond immediately to any requests for more information to avoid delay in your awards paying toward your UMKC bill. We send all official communication to your UMKC-assigned email address, so it is important to regularly check your UMKC email, as well as your To-Do list in Pathway, which can be found by selecting Self Service>Student Center>To-Do List.
Learn More About Your To Do List
Complete your Annual Student Loan Acknowledgement (ASLA)
Complete loan entrance counseling
First-time federal Direct Loan borrowers or dependent students of a Parent PLUS borrower must complete online loan entrance counseling through Federal Student Aid, an office of the U.S. Department of Education.
Sign Master Promissory Notes (MPN)
Sign up for Work-Study
Funding for Work-Study is limited; therefore, it is awarded on a first-come, first-served basis. Simply indicating interest in Work-Study on the FAFSA

 

does not guarantee you will receive the award.
If you are not awarded Work-Study, you should submit a request to be added to the wait list by using our

 

online wait list portal. As funds become available throughout the year, the Financial Aid Office will award students off of this list in order of the wait list request date. Priority will be given to students who have previously been awarded Work-Study.
Award adjustments
If we must adjust any of your awards, you will be notified by email at your UMKC email account that you have a revised award notification available on Pathway. Awards not accepted within 14 days of being offered may be canceled.
Report external scholarships and other financial resources
If you receive funds not listed on your award notice, report them to us immediately, even if you know the office making the award will advise us directly.
According to federal regulations and university policies, forms of assistance such as external scholarships and other funds you may have received from sources outside your family, including private scholarships offered to you from your high school, church or community; merit scholarships; awards and scholarships from your state; some prepaid tuition plans; and UMKC academic units and departments must be considered among your financial resources when eligibility for need-based aid is determined. They will improve your overall aid package; however, whenever you receive additional assistance, your awards may be adjusted or reduced, even if your aid has already been disbursed to you. 
If there is any change to your financial aid eligibility because of the additional assistance, you will receive a letter or email notification that you have a revised award.